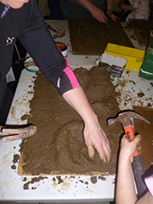 On this 1 day course, we will learn how to test soil and transform it into material for sculpting. Each student will get their own board on which they can create an individual piece of bas-relief art. Students can bring their work home with them.
The course will be taught by Colin Ritchie, carpenter and earth-builder, and Féile Butler, architect (MRIAI) and earth-builder in the grounds of their own earth-and-timber-frame house, completed in 2011. Classroom-based lectures will take place in the house.
What to Bring:

This is a very practical hands-on course, taking place outdoors. Bring good, warm waterproof clothes and footwear. Clothes/footwear will get muddy.


Bring a notebook and pen for theory. A hardback notebook or a clipboard is advisable if you want to take notes outdoors. Handouts will be provided.


Bring a hammer if you have one. We have extra on site, but if you have your own, you will never have to wait around for one.

Please label all personal items before arriving on the course.