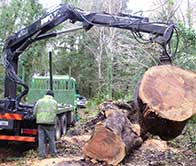 On this 1 day course, students will get a tour of Colin's house showcasing the possibilities for using timber in its most natural form. Learn how to find suitable trees, how to get them from A to B, and what to do with them then. Get hands-on experience in making natural edge timber countertops and shelves. In the afternoon, there will be a bus-tour to local woodlands, a saw mill and a commercial workshop.

The course will be taught by Colin Ritchie, carpenter and earth-builder, in the grounds of his earth-and-timber-frame house, completed in 2011. Classroom-based lectures will take place in the house.
What to Bring:

Bring good waterproof clothes and footwear for outdoor demonstrations, practical classes and tour.


Bring a notebook and pen for theory. A hardback notebook or a clipboard is advisable if you want to take notes during outdoor workshops.

Bring a saw and pencil if you have them. We have extra on site, but if you have your own, you will not have to wait around for them.

Please label all personal items before arriving on the course.