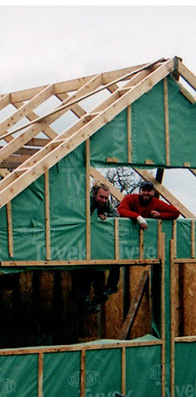 On this 4-day course,students will get hands-on practical experience in how to build a simple cabin structure. Learn about stud spacing, how to fix different types of external cladding, how to fit windows, options for insulation and internal finishes, how to accommodate electrical and plumbing services, how to construct a timber floor, how to lay floorboards and how to put on a simple roof. Students will build a half-scale cabin, to ensure they get to cover all details over the 4 days. Much of the cabin will be built using salvaged materials, which are cheap and plentiful - with tips of where and how to find them.
The course will be taught by Colin Ritchie, carpenter and earth-builder, and assisted by Féile Butler, architect (MRIAI) and earth-builder, in the grounds of their own earth-and-timber-frame house, completed in 2011. Classroom-based lectures will take place in the house.
What to Bring:

This is a very practical hands-on course with all workshops taking place outdoors. Bring good waterproof clothes and footwear.

Bring a notebook and pen for theory. A hardback notebook or a clipboard is advisable if you want to take notes during outdoor workshops. Handouts will be provided.

If you have them - bring a hammer, saw, measuring tape, screwdriver, spirit level and pencils. We have extra tools on site, but if you have your own, you will not have to wait around to use tools.

Please label all personal items before arriving on the course.