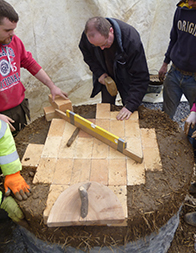 On this 2 day course, learn where to find soil for building projects, how to analyse it and how to turn it into a viable building material. Students will learn the traditional technique for foot-mixing cob (earth and straw). Then we will go on to build a cob pizza oven in the Heritage Walled Community Garden.
This course will be taught be Colin Ritchie, cob-builder and carpenter, in the Heritage Walled Garden at the Avila Centre, Bloomfield Avenue, Donnybrook, Dublin 4.
What to Bring:

This is a very practical hands-on course with all workshops taking place outdoors. Bring good waterproof clothes and footwear. Clothes/footwear will get muddy.


Bring a notebook and pen for theory. A hardback notebook or a clipboard is advisable if you want to take notes during outdoor workshops. Handouts will be provided.

Please bring samples of your own soil if you want to test if it is suitable for making your own cob.