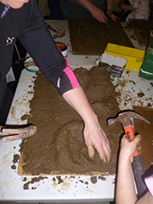 On this 2 day course, we will learn how to test soil, transform it into material for sculpting and how to make finishing plasters from clay. We will be working on a large wall sculpture which will be a backdrop to the farmers market to be held at the Donnybrook Heritage Walled Garden in in the future. We also hope to be adding sculptural features to the cob oven, built in May.
The course will be taught by Colin Ritchie, carpenter and earth-builder, or Féile Butler, architect (MRIAI) and earth-builder, in the Heritage Walled Garden at the Avila Centre, Bloomfield Avenue, Donnybrook, Dublin 4.
What to Bring:

This is a very practical hands-on course, taking place outdoors. Bring good, warm waterproof clothes and footwear. Clothes/footwear will get muddy.


Bring a notebook and pen for theory. A hardback notebook or a clipboard is advisable if you want to take notes outdoors. Handouts will be provided.


Bring a hammer if you have one. We have extra on site, but if you have your own, you will never have to wait around for one.

Please label all personal items before arriving on the course.

Please bring samples of your own soil if you want to test if it is suitable for making your own sculpting mud.