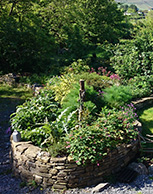 Over 2 days, we will look at how natural materials - such as earth, stone and logs - can be used to create enjoyable outdoor spaces. We will look at how to capture the sun and deal with the wind, to create comfortable, sheltered outdoor areas. You don't need planning permission to build garden walls and you can increase your sense of space significantly by building an "outdoor room".
Some of the topics covered will be how to build stone walls using flowing, organic lines; how to build cob walls; how to incorporate trees or logs in to a project, ideas for raised beds and much, much more.
The course will be taught by Colin Ritchie, carpenter and natural builder, in the grounds of his own earth-and-timber-frame house, completed in 2011. Classroom-based lectures will take place in the house.
What to Bring:

This is a very practical hands-on course, taking place outdoors. Bring good, warm waterproof clothes and footwear. Clothes/footwear will get muddy.


Bring a notebook and pen for theory. A hardback notebook or a clipboard is advisable if you want to take notes outdoors.


We will tell you what tools to bring at the time of booking. We have extra on site, but if you have your own, you will never have to wait around for one.

Please label all personal items before arriving on the course.