The Value of Building an Outdoor Room

8th September 2015

At Mud and Wood not only do we like to take on natural building at a big scale (e.g. The Mud and Wood House) or at a small scale (e.g. natural edge wood furniture, cob ovens and the like), we also love those projects that fit somewhere in between.

There is a principle in design known as the "outdoor room". As humans, we are not fully comfortable in wide open spaces. For an outdoor area to be successful, we like to have something solid at our backs, we like to have some sense of enclosure and we like to have to something to focus on in front of us - this could be a distant view, a nearby tree or a manmade feature, such as a fireplace. Courtyards and town squares are most successful when they achieve this sense of containment. You can scale down this concept and adapt it for your home.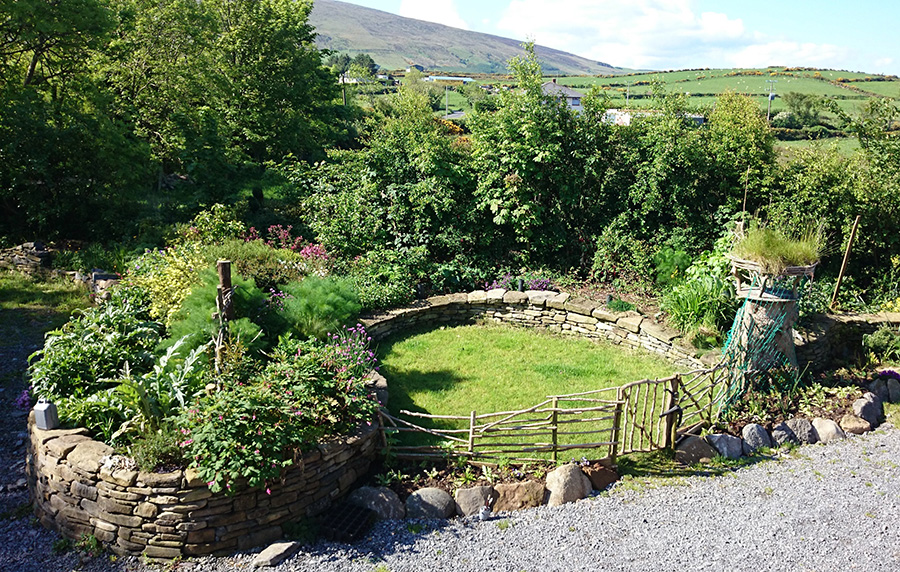 The outdoor room is also a great way to expand your sense of space from within your house. If you live in a small home with small rooms and you do not have the money or inclination to gut the whole building to "open it up", you can help those rooms feel larger by creating a defined space outside the window or patio doors. Your eye will be drawn beyond the limit of the glass and will focus on the edge of the outdoor room. Hey presto - a sense of more space without demolishing a single brick!

A great way to breathe new life into any garden is to define areas which are conducive to hanging out. In Ireland, building an outdoor fireplace into one of these areas is an even better way to encourage you out of your house and into the fresh air. It is amazing how the addition of a fireplace to a patio area will give you a great feature and focal point in your garden - who doesn't love to gaze in to a fire; if properly positioned it can act as a shelter from the wind and naturally, the heat from the fire means you can spend more time outdoors in comfort.

Last year, Colin Ritchie of Mud and Wood, completed this outdoor entertainment area for musician and producer, Nick Seymour of Crowded House. Colin had been involved in the conversion of a little stone building in the garden into a hangout den. Nick wanted to expand the space and, being Aussie, wanted to be able to spend plenty of time outdoors without freezing his butt off. Part of the brief was that the area should look ancient, as if it had grown naturally from the site. Using seating, the fireplace and raised flower beds, Colin was able to define a "room" without actually closing it off from the rest of the garden. The family are delighted with the result.
| | | |
| --- | --- | --- |
| | | |
| The Outdoor Room | Nick Seymour of Crowded House enjoying his Outdoor Entertainment Area | Detail of Stonework |
Colin was also involved in the Happy Glamping campsite in Co. Donegal. Again, recognising that we do not live in the driest and sunniest of climates, the owner wanted a sheltered area where her campers could gather. There is a fire pit in the gazebo, so the glamorous campers can enjoy a sing-song around the fire and still enjoy being outdoors without getting saturated and miserable. You wouldn't want to ruin those Yves St. Laurent thermals or Louboutin wellies, now would you!

Thinking about the concept of having something solid at your back, the split-level garden is a great opportunity to create a hang-out area at the lower level (provided it is facing into the sun). The stone retaining walls, log bench and stone steps give great character and definition to this outdoor space.
| | |
| --- | --- |
| | |
| Communal Sheltered Fire-Pit at Happy Glamping | Split-Level Garden: Stone Retaining Wall and Stone & Gravel Steps |
The Mud and Wood House sits on half an acre. It is not a huge site, but it was still far too "open-plan" for our liking. The whole garden has been divided up into a series of outdoor rooms, with different themes going on in different areas - to be enjoyed at different times of the day, depending on where the sun (or shelter) is. Much of it is still a work in progress. However, here are two areas which are well on the way to completion.

The little lawn is directly across from the front door of the house. The raised beds provide great protection from the wind, so it is an ideal spot for impromptu picnics and sheltered sun bathing. The stone fireplace and patio tie together the larger entertainment area. The timber structure on the left houses the kids' sandpit and will soon be covered with a grass roof. A pizza oven will also be added to this area. As with most materials in the Mud and Wood House, most of what was used to build this area was salvaged or picked up locally. The flagstones came from a pub across the mountain. All of the timber was milled from local windfall trees. The large "ent", to the right of the stonework, came from a nearby field. An elm, it had died a long time ago and the core was completely rotten. With its sinewy trunk and crazy burls, it provides a perfect end-piece to the design.
| | |
| --- | --- |
| | |
| Raised Beds and Lawn Area at the Mud and Wood House | Outdoor Fireplace and Patio at the Mud and Wood House |
A Combination of Stone, Flagstones, Natural Edge Wood, Tree Trunks and Even Some Cob!
This September, Colin will be running a brand new course - Natural Landscaping, where he will show you how to create your own beautiful outdoor rooms using materials like stone, earth and wood. You can click here for more information or to book your place. Or give us a call on (086) 806 8382.

Copyright 2015, Féile Butler - Mud and Wood